The Austin-based electric vehicle maker, Tesla has slashed prices by up to 20 percent, possibly in an effort to boost demand.
The price cut applies to vehicles sold in the US and ranges from 6% to 20% for the Model 3 and Model Y SUVs, as well as some premium versions. Last week, Tesla cut the prices of its vehicles in Europe and China.
Some Model 3 sedans and Model Y SUVs are now eligible for electric car tax credits for U.S. consumers, as a result of amendments implemented by the federal Inflation Reduction Act, which was passed into law last year. Additionally, Tesla said on its website that some customers are now eligible for tax credits for vehicles delivered through March.
BREAKING: @Tesla's increased Model Y prices in the US & decreased some Model 3 prices:

• Model 3 RWD: $43,490 (from $43,990, a 1.1% drop)
• Model 3 P: $53,990 (same)
• Model Y LR: $54,990 (from $53,490, a 2.8% increase)
• Model Y P: $57,990 (from $56,990, a 1.75%increase) pic.twitter.com/XSotVeIDF2

— Sawyer Merritt (@SawyerMerritt) February 4, 2023
Tesla Model Y Saw a 20% Price Cut
Tesla did not specify how long the reduced prices would be in effect. The Tesla website shows the Model Y as the biggest price drop, from $65,990 to $52,200, a 20% discount. The price of the base Model 3 dropped 6.4% from $46,990 to $43,990. The most expensive vehicle on the market is down by $21,000, including a 15% discount on the Model S Plaid.
Tesla's popular five-seat Model Y, which the company considers an SUV, was previously ineligible for federal subsidies with a list price of $65,990. The vehicle did not meet the government's minimum weight requirements for an SUV and, until last week, cost too much to qualify as a small vehicle. Earlier this month, Musk said on Twitter that the situation was a "mistake."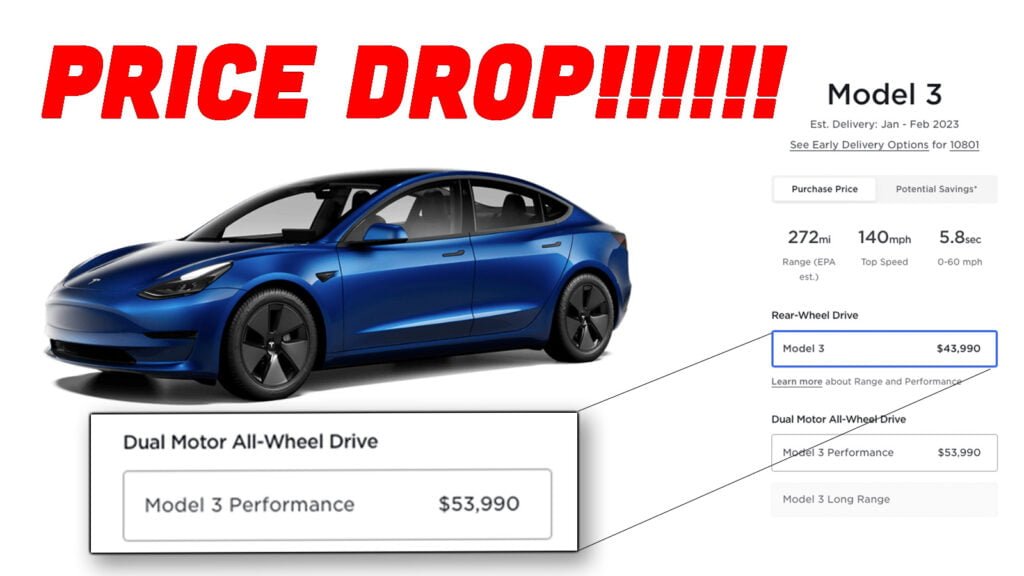 Under the law, consumers can apply for up to $7,500 in tax credits on new EVs and plug-in hybrids, but the vehicles must meet certain requirements: weigh less than 14,000 pounds, be built in North America; Should, and should use battery with a minimum capacity of seven kilowatt hours. Vans, SUVs, and trucks, determined by weight, must have a suggested retail price of less than $80,000, while small cars such as sedans must have a suggested retail price of no more than $55,000.
Why did Tesla Lower its Prices?
Dan Ives, an industry analyst at Wedbush Securities, opined that the price cut is a deliberate move by Musk and Tesla, given the company's dwindling demand for its products.
The price drop is a result of lower than expected 2022 shipment volumes. The company will release its quarterly financial report later this month, but it has already said it sold a record 1,300,000 vehicles in 2017. But those sales figures fell short of Musk's goal of 50 percent annual sales growth.
Last year, Tesla struggled with the COVID-19 shutdown in China, which hampered production at its Shanghai facility, while trying to ramp up production at its Berlin and Austin operations. Investors are also concerned that Musk's $44 billion acquisition of social media network Twitter has prevented him from focusing on Tesla's operations.
In 2022, Tesla shares fell more than 65 percent, outpacing the market's decline. Musk, whose fortune is entirely tied to Tesla stock, is no longer the richest man in the world.
"After a Cinderella ride for the last four or five years, Tesla is gearing up for some economic wear and tear and must change," Ives said.
Ives said the price cuts will boost global demand and shipments by 12 to 15 percent this year, indicating that Tesla and Musk are taking an aggressive approach as the electric vehicle market heats up.
Upcoming Planning's for Tesla
Tesla is ramping up production at its Giga Texas manufacturing facility in Central Texas, which opened in April at a cost of $1.1 billion. In April, the Austin facility began delivering Model Y automobiles and is now set to produce the highly anticipated Cyber Truck. In December, the business said its production pace had crossed 3,000 vehicles per week.
Tesla said in late 2021 that it would move its headquarters to Austin, where it currently resides, along with its manufacturing facility. There are also plans to build Model 3 vehicles and batteries in the future.
Tesla also plans to invest more than $700 million in a new building at its Austin location, according to documents filed in December and January with the state of Texas and the city of Austin.